(Peruvian Steamed Fish Fillets)
Reference
Prep time 30 minutes.
Cooking time 7-10 minutes.
Ingredients
2 tablespoons of corn oil
1 large onion. Slice the onion.
2 garlic…
Like many others throughout the country who enjoys trying  new cuisine I have become increasingly fond of Peruvian food. Just this past week I had the pleasure of…
If cuisine is your thing and trying new food is a hobby then you likely can't help but notice the growing number of Peruvian restaurants popping up throughout…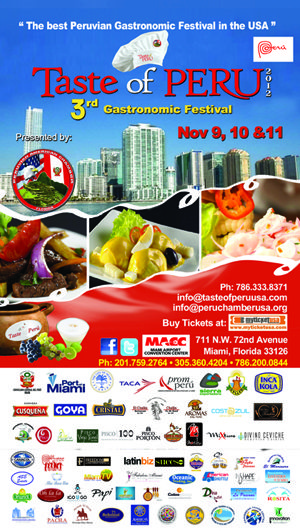 The third annual Taste of Peru located in Miami, Florida is sure to be a memorable event that…
References
Prep time:  40 minutes
Serves: 4
Ingredients
1 lb white fish (fillet) (tilapia is commonly used)
The juice from 6 limes
1 teaspoon of aji amarillo paste, or…
Chicken stew with green rice
Reference:
Prep time: Servings:6-8
Ingredients :
1 tender chicken
½ cup vegetable oil
2 crushed garlic cloves
1 chopped onion
¾ cup coriander leaves…
References:
Prep/cooking: 1 hour
Servings: 6-8
Ingredients:
4 lb of fresh mushrooms. The mushrooms need to be both cleaned and sliced.
3 garlic cloves. Mince all three cloves.
…
This recipe is staple through all of Peru. Different parts of the country have its own personality and delicious variations. This particular recipe is from the northern region of Peru.
…
Cancha is a popular snack/appetizer in Peru. It is cooked with a large-kerneled corn that is known as maiz chulpe or maiz cancha chulpe. Cancha is perfect along side
This is a stir fry dish. It is a culinary cusine and can be used as either a main dish or an appetizer.
Reference
Prep- 1 hour
Servings- 6
…