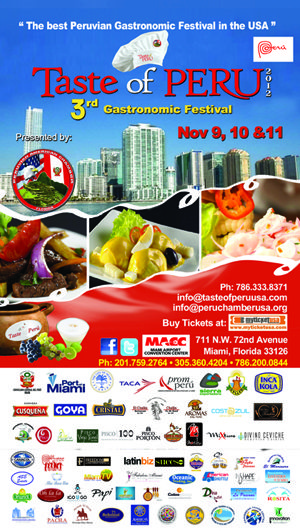 The third annual Taste of Peru located in Miami, Florida is sure to be a memorable event that will leave your taste buds longing for more. This year the festival will be a congregation of more then 100 exhibitors. The vast majority of them will be Peruvian chefs.
This is a wonderful event that is brought to you by the Peruvian American Chamber of Commerce of South Miami Florida. This year the fantastic event will be held at the Miami Airport Convention Center (MACC) which is located at 711 NW 72nd Avenue, Miami, Florida 33126. Last years event was a huge success and this years will surely top it.
In addition there will be live entertainment including musical performances, dance shows, fashion shows, art galleries, and various contests including best chef contest.
This year the event kicks off with Friday nights inaugural VIP COCKTAIL. The two day affair will include drinks, food, and other fun that the Peruvian culture and cuisine has to offer. There will even be a Peruvian Paso Horse show.
Don't miss the opportunity to see for yourself what all the hype is about. Peruvian food is quickly spreading throughout the world. Whether you already love Peruvian food or have never tried it, this is sure to be a great weekend that can be enjoyed by all."
Location: Double Tree Miami Hotel and Miami Airport Convention Center · Thursday, November 8, 2012 – Sunday, November 11, 2012
Website: http://www.tasteofperu.com