Of the yellow pepper sauce and it's magic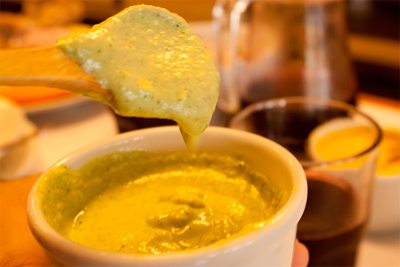 We know for instance is a sauce so popular in Peru, it's actually sold even in McDonalds and most fast food venues, and that people like it so much they eat it with most foods.
The popularity of this sauce came almost at the same time as Pollo a la Brasa. We say almost because at first it was served plain, no dressings nor side dishes; as time went by people started serving Pollo a la Brasa with French fries, but since most of the creole cuisine has a spicy side, the yellow pepper sauce was added and became known as Ají de Pollería because it was served in every restaurant who's main dish is Pollo a la Brasa, this places are known as Pollerias.
To prepare this sauce is actually very easy, you just need to put in the blender, 3 clean yellow peppers along with 5 ounces of fresh milk for a couple of minutes, then add black mint paste, just a little because it's what actually gives it the spiciness while the pepper is for flavor. Add a teaspoon of salt, a couple of gritty yellow potatoes and chopped onions. As everything blends, carefully add a soup spoon of oil.
After a couple of minutes you have about 5 to 6 ounces of this delicious sauce to serve your Peruvian food with and enjoy.