Sobe Pescado and Pisco Event with Gaston Acurio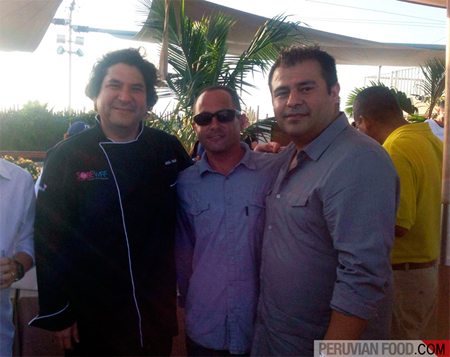 The PeruvianFood.com crew went to the South Beach Wine and Food festival event "Pescado and Pisco" hosted by the renowned chef Gaston Acurio.
The event took place on the rooftop of the Betsy hotel in South Beach last Saturday. It started a few minutes late event and there were roughly 120 people in attendance. Famous Univision news anchor Maria Elena Salinas covered the event.
We were able to exchange a few words with Gaston and tried to see if he would reveal the name and location of his soon-to-open new restaurant in South Florida. Unfortunately he said his lawyers were still putting the paperwork together and although he already had the place picked out he could not tell us more. We also asked him if he would endorse any Peruvian food restaurants in our local area but he said he has never had a ceviche in South Florida. In addition we asked him if he had heard of Ceviche 105 (one of the most popular ceviche joints in Miami); he said he heard good things about it but hasn't had the chance to try it for himself.
We believe Gaston Acurio participated in this years SOBE event because the opening of his restaurant is pretty imminent.
The rest of the afternoon was top notch. Ocucaje (one of the best-selling Peruvian pisco brand) sponsored the event and bartenders were handing out different pisco based cocktails through the duration of the our time their. On the food side, 4 chefs were making different kinds of ceviches and seafood hors d'oeuvres for the guests to enjoy.
The food was excellent and we could see the chefs cutting the fresh fish and making ceviche with tuna, snapper, scallops and other delights from the sea right in front of us. In between talking to all of his guest Gaston Acurio would also assist in the preparation of these amazing treats.
The PeruvianFood.com team was happy to attend to this event and we hope to attend more of these venues that share the same level of quality and organization.