Peruvian food is having a moment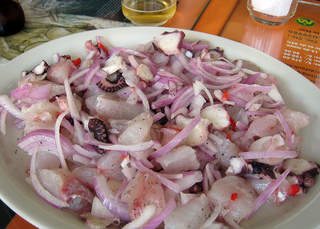 (CNN) — More and more Americans are flocking to Peruvian food and discovering a world of flavor beyond pollo a la brasa (rotisserie chicken). This diverse cuisine, with influences from Andean to Spanish, Japanese and Chinese to African and Italian, is quickly finding its rightful place in the national food scene.
Credit is due in part to Gastón Acurio, the country's most recognized chef, who acts as the unofficial ambassador of Peruvian cuisine with 34 restaurants in 14 cities worldwide, including the recently-opened La Mar Cebicheria in New York City. In 2008, Acurio, together with Apega, the Peruvian Society for Gastronomy founded Mistura. This 10-day food festival brings together street vendors, herbal stands and high-end chefs showcasing their most popular dishes and attracts over 300,000 every year.
Now, scaled-down versions of this event – complete with quinoa desserts, fresh bread, and traditional herbal drinks – are popping up outside of Peru.
"We were just walking around and saw everyone here dancing and selling food, so we popped in to see what was going on," said Manhattan resident La La Brooks. "Now I'm eating some potatoes with this amazing sauce. I need to learn how to make this at home."
Brooks was referring to a signature Peruvian dish, papa a la huancaina. It's a spicy cheese sauce served over sliced potatoes and boiled eggs, typically served cold as a first course or appetizer, and she was enjoying it in the courtyard of St. Mark's Church, one of the oldest churches in Manhattan.
The space was transformed into an Peruvian Andean market last Sunday, complete with arts, crafts, music and dance performances and, of course, food stands. El Mercadito Andino, which translates to the "The Andean Market" was organized by Abya Yala Arte y Cultura, a non-profit cultural organization deeply rooted in celebrating the cultural identity of the native communities of Latin America.
"Our focus for this market was to offer food that is commonly found in our Peruvian markets and homes, but not commonly found in Peruvian restaurants in New York," said Ana Noriega, president of Abya Yala Arte y Cultura. Vendors also offered traditional Andean dishes like yaco chupe (green soup with a base of potato, cheese, garlic, coriander leaves, peppers and eggs) and yuyo verde con canchita (seaweed and Peruvian popcorn).
"Everyone is talking about Peruvian food now, but very few people know much more about it than cebiche and pisco sours," Morena Escardó told NBCLatino. She's the author of "The Everything Peruvian Cookbook" and blogs with her mother Moreno Cuadra at Peru Delights.
"Our cuisine is very complex, reflecting our long and multicultural history," Escardó said, "We wanted people to learn this, so they can better understand our techniques and ingredients. "
Peruvians are one of the ten largest Latino population groups (making up more than half a million people) in the U.S., according to the Pew Hispanic Center. About 13% of Peruvians live in New York, and 15% in New Jersey – a statistic which might explain the presence of over 100 Peruvian restaurants in New York's tri-state area.
Frommer's picked Lima, Peru as their Top Food & Drink Destination of 2012 for their "cultural miscegenation – a rich stew of Spanish, African, Chinese and Japanese – is reflected in its culinary fusion" which could explain why the capital city has become a destination for food-focused tourists. For those who can't make the journey, click through the gallery above to be inspired by Peruvian delights from yacochupe to alfajores.
Source: News Channel 5