Ceviche House, Florida's First Peruvian Restaurant, Still Around After 30 Years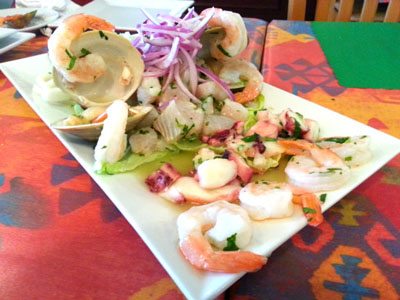 By Ily Goyanes
Ceviche House sits inside the longstanding Miller Square plaza on 137th Avenue and Miller Road. Serving up tallarin saltado, aji de gallina, chilcano, and of course, ceviche for over thirty years, owner Jose Lopez is responsible for bringing Peruvian cuisine to Florida. At one point Lopez had four restaurants in South Florida, but now he's focused on his original location alone. "It's very hard to find real Peruvian chefs," he explains. Rather than skimp on authenticity, he closed a few of his locations.
One would expect that anointing his restaurant "Ceviche House" that the place would specialize in ceviche. There are eight types of ceviche on the menu, but unfortunately, the taste and quality don't add up to a namesake restaurant.
We tried the ceviche de la casa ($24.95), which Lopez assured us was plentiful. We have to say that we've had better ceviche in several other places. The leche de tigre aka citrus marinade, was okay, not extremely flavorful or noteworthy. We took offense that the shrimp were already cooked, as were other seafood ingredients. Upon asking Luisa Marinel, chef and Lopez's wife, she confirmed our suspicions. "Yes, they are steamed beforehand."
The ingredients of a ceviche, be they shrimp, octopus, fish, and so on, are to be raw and then "cook" in the lime juice. Not only do we feel that this affected the flavor of the ceviche, but we found it disappointing that our homemade ceviche is better-tasting and more authentic than the one served at the first ceviche restaurant in Miami.
Fortunately, the parihuela ($14.95), or seafood soup, was savory and chunky with seafood, though not worth fifteen smackeroos. The lomo saltado ($11.50) was decent, prepared with churrasco instead of the usual palomilla, which enhanced our enjoyment of the otherwise nondescript dish.
Upon trying the desserts, we felt as if there should be a name change – Postre House would be a much better representation of what to look for inside.
After our comped meal, we were full, but not satisfied. Not so much because the food was average, but because we were expecting much better ceviche from a restaurant claiming to be the house of ceviche.