Why Miami Food Lovers Should Know Who Gaston Acurio Is
 by Trina Sargalski
If you don't know who Gaston Acurio is, chances are you will soon. The Peruvian chef, who is arguably the face of Peruvian cuisine both in his home country and around the world, visits Miami this weekend for the South Beach Wine & Food Festival. Perhaps he will also work on setting up a new restaurant;he has stated in several media outlets that he has plans to open a restaurant in Miami.
In addition to being an ambassador of Peruvian cuisine around the world, Acurio is a cookbook author and advocate of Peruvian food traditions. He has opened more than thirty Peruvian restaurants around the world.
A cursory and completely unofficial survey of Peruvians and food-lovers in Miami revealed that familiarity with Acurio is still uneven.
We would have liked to have asked Acurio personally about his work, but an ambassador for Peruvian food has much to do, especially while preparing to leave the country for the South Beach Wine & Food Festival–he declined our request for an interview.
Nevertheless, we'd like to share with you why Miami should know who Gaston Acurio is — and why we think it soon will:
His restaurant, Astrid & Gaston, is rated one of the top in the world.
The restaurant Acurio runs with his wife, Astrid Gutsche, has been acknowledged asone of the fifty best in the world. Acurio's restaurant empire includes branches of his La Mar restaurants in San Francisco and New York.
Ferran Adria says so…
Adria was chef at the now-closed El Bulli, which was declared the best restaurant in the world five times.  He is arguably the most famous  in the world.
Acurio and Adria worked together on a 2012 documentary,"Peru Sabe (Peru Knows): Cuisine as an Agent of Social Change" about the reappraisal of Peruvian culture and gastronomy, both by Peruvians and outsiders.
"God has spoken," Adria said, "The future of gastronomy is in Peru. I want the world to know what's happening there."
Adria has spoken.
Peruvians are an increasingly large part of our community and so they play a growing part in Miami's food scene.
Miami-Dade County is currently home to the largest concentration of Peruvians in the United States, according to the 2010 U.S. Census.  Over the past ten years, the Peruvian population of Miami-Dade has grown by almost 75%.
Miami chef Michelle Bernstein is a big fan of Peruvian cuisine:
"In the last decade, the greatest trend that I have seen in South Florida restaurants is most definitely that of Peruvian cuisine; more specifically ceviches and tiraditos."
Maria Murriel, a columnist for SouthFlorida.com, moved to Miami when she was 11:
"When we moved here, we felt like the Latin immigrants here were very much Caribbean. There's a very different feel between Latin cultures closer to the Atlantic and those closer to the Pacific."
Hispanic restaurants and groceries didn't offer the Peruvian products they missed. Now Murriel notices that, as the Peruvian population increases, so do Peruvian groceries and restaurants.
There are 97 Peruvian restaurants in South Florida, according to South Florida Menu Pages. To give some perspective, the sites lists 244 Cuban and 3 Indonesian eateries. The site isn't completely comprehensive–it leaves out smaller neighborhood spots without a digital presence and some other restaurants with Peruvian touches that are considered "Nuevo-Latino."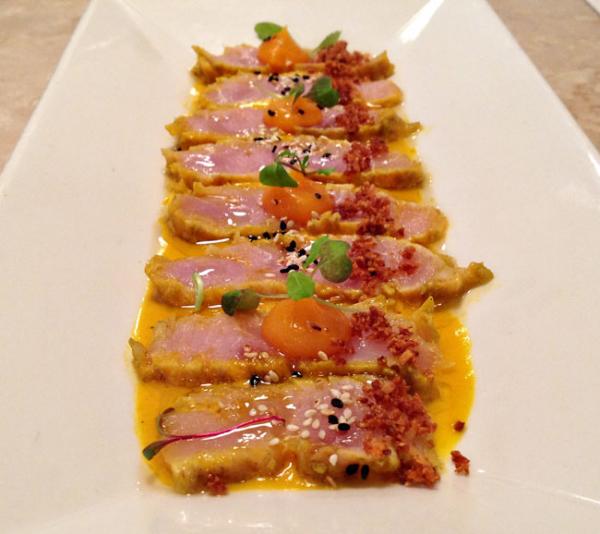 Mary Benton, an artist who lived in Peru for several years, just moved to Miami with her husband: "Generally speaking, when we mention when we've lived in Peru, everyone here has a favorite Peruvian restaurant they recommend."
Murriel says she feels a "fierce pride" about what she thinks is becoming a more influential cuisine. She wrote an article last year about how she observed the Peruvian spirit pisco popping up on more cocktail menus: "Even up in Palm Beach County, people were having pisco cocktails and I was really surprised."  Her Peruvian relatives used to have to bring her father Pisco when they visited because it was so hard to find in Miami.
The global push for Peruvian culture.
Besides the general pride Peruvians here feel about their homeland, there has been a greater push to appreciate Peru's cultural resources from within the country as well, and Gaston Acurio has been part of it.
In an interview for Ask Men, Acurio said,
We were trained over the last 200 years to think of ourselves as importing culture and exporting commodities. With food, we're proving that this doesn't have to be the case; we can invent, create and gift to the world what we are.
Chefs and food advocates in Peru, including Acurio,  started the MISTURA/APEGA gastronomic festival, an impressive multi-day celebration of the various food cultures of Peru–including Andean, Amazonian, Japanese and Chinese.
Acurio is also part of the general push to share broader Peruvian culture, beyond cuisine, with the rest of the world.
One example is an engaging marketing video created by the International Peru Country Brand. Ambassadors from Peru, including Gaston Acurio, visit and share their culture with people in Peru, Nebraska.
In one of my favorite moments in the video, Peruvian chef Christian Bravo hollers over a megaphone to the residents of Peru, Nebraska: "You are from Peru! You have the right to eat delicious food!"
You can also see the video at the North Miami Beach restaurant, Mixtura, which plays Peruvian promotional videos on its TVs. Local Peruvian restaurants often feature the official logo of Peru, with a swirling "P" similar to the Nazca lines, on their menus or websites.
Jose Luis Herrera, the Peruvian head chef at Mixtura, sees Acurio as the leader and the most visible face of a movement that includes all Peruvian chefs and restaurants–and he mentions other chefs like Javier Wong and the late Teresa Izquierdo–who "fight the battle" for Peruvian gastronomy:
"Acurio was the pioneer. He dared to show the world what Peruvian cuisine is today. Now, wherever you go–France, China, Japan–you can find ceviche or you can find Peruvian touches. In addition, in other kinds of restaurants here–say in a French restaurant–you might find a ceviche. It will be their own interpretation, but it's still a ceviche. That's incredible."
Michelle Bernstein agrees that Acurio brought many of the chefs, cuisines and food traditions of Peru into the spotlight. She definitely thinks people in South Florida should know who Acurio is by now:
"We should thank and respect the great Gaston Acurio for putting these foods on the map, making them more approachable, more conceivable and more delicious. As far as I'm concerned, if you don't know who Gaston is, you shouldn't be making these dishes to begin with."
Now that you know who he is, go make a ceviche or some tallarines saltados.